Experience 5 Wines
Host - Winemaker - Warner DeJulio
VIN312 Winery and winemaker Warner DeJulio invites you to join us in the cellar for a virtual wine tasting. While we would all like to have the experience to come into the winery, we offer a virtual experience to be able to join us to fulfill our purposes of sharing and learning!

Purchase Now

The purchase of VIN312's Tasting Bundle gives you access to schedule your tasting to a time that works for best for you! Our winemaker will be there when you are available!

During the tasting Warner will give you his story on how VIN312 was started and guide you through the tasting of 5 different wines. Our virtual tasting is an interactive experience where participants will learn how to taste wine and about what the winemaker's inspiration was while creating each one.

Afterwards, participants can feel free to continue to share with each other on the virtual call and ask questions.

Appointments are available multiple times a week for individuals. Any special requests or private tasting sessions can be setup by contacting the winery (virtual@vin312.com or 312-714-5050)

How it works:
A link will be provided through Calendly to schedule your tasting ( please schedule one week in advance to insure you have your wine kit )
Participants Receive:
(5) 2oz VIN312 Tasting Kit
WebEx Virtual Video Conference
Winemaker's Tasting notes
Free tasting coupon for future winery visit
(optional) VIN312 Cork Screw
(optional) Bottle upgrade
20% off new wine club memberships!

Looking forward to sharing our story and wine with you!
- Warner DeJulio - Winemaker

Purchase Now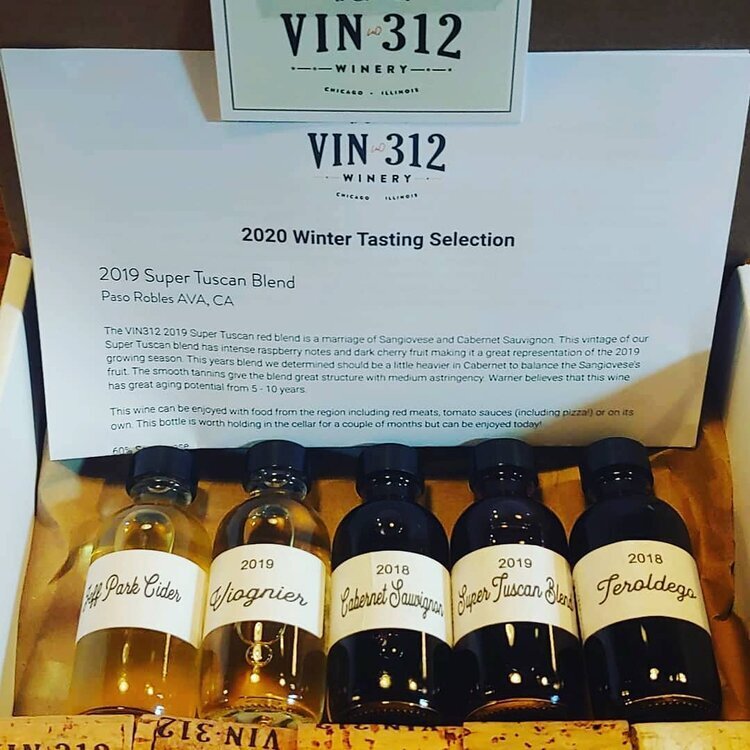 Tasting Kit changes with each season
Schedule your tasting for a time that works for best for you!